Advantage Tech Inc.

HR Services, Career Transition, and Executive Coaching since 1980
Management Assessment and Development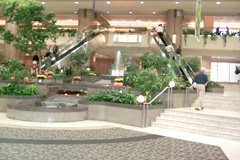 Advanced Industrial Assessment & Psychological Testing tools, including on-line state-of-the-art 360 Feedback (Where we use questionnaires or interviews with the individual, their direct supervisor, peers and other contracts, as well as staff) are used to identify Key Management Skill Development Areas, including Interpersonal Relations, Understanding/Motivating People, Performance Appraisal & Coaching, Strategic Planning, Creativity & Flexibility, Group Problem Solving & Effective Communication (listening) to name a few. (view sample 360 Report, Executive Development Report, or a Synoptic Report) Strengths and Development needs are identified and a recommended course of action is detailed as part of Succession Planning and enabling employees to meet client needs for planning and increased productivity.


Costly Mistakes Avoided
Who do you know within your own company who seems to be struggling, even a little? For example, do you know someone who has ongoing problems with subordinates? (One "problem" employee may truly be a misfit. More than one in a department usually means a superior who is not coping well.) Have you ever wondered whether some of your colleagues ought to be where they are? How many people in your company have been terminated because "they just didn't work out"?

These people are unquestionably in roles for which they lack skills and training, and quite likely, real interest in the role. How did they get there? What happened (or didn't happen) that led to this?

The most frequently employed criterion for promoting an individual into a managerial role is technical performance. Less common is for the organization to attempt to evaluate the individual's actual suitability to managerial roles.

Some people whose promotions are based mostly or solely on their technical or functional expertise make the transition well, but many find themselves stuck in a role for which they have neither liking nor much skill. Though they try their best, they never rise again to the heights of their early technical achievement. As Laurence Peter said nearly four decades ago, they have risen to the level of their incompetence (The Peter Principle). Some may fit a manager's role so poorly that the eventual result is degraded organizational performance and damaged relationships with customers and co-workers. The wrong manager in the wrong role can have a considerable financial impact. One need only look at recent corporate failures to see the real cost of having someone in a role he or she cannot handle.


Career Assessment, Planning and Development
Satisfied employees result from solid individual and organization career planning.
Progressive companies realize that employee satisfaction and effective career planning and development go hand-in-hand. Advantage Tech Inc. provides the important assessment and feedback essential for career planning and development by the individual as well as staff development and succession planning by the organization. To achieve this goal, we conduct a comprehensive psychological/Industrial assessment of the individual's motivations, personality, and self-concept. This is then combined with an extensive assessment of career interests, aptitudes and goals. We are successful in being able to find the best possible fit between the person and their optimal career path. Understanding the direction of this "fit" has direct benefits for both employee career planning and development, and for corporate succession planning.
Personnel Selection
Registered clinical and industrial psychologists at Advantage Tech Inc. provide valuable insight to assist in hiring decisions. As companies are faced with increasing numbers of job applicants coupled with more pressures to make the "right" selection decisions, they are turning to the kind of information and insight that can be provided by a Registered Psychologist to assist them in the hiring process. We have been involved in assessment programs for: Sales People, Sales Managers, New Employees, Supervisory Promotions, Managerial Promotions, Special situations (foreign assignments), Problem Employees and Senior Executive Positions. We encourage our clients to use this data as "one more piece" to the puzzle. Psychological assessment should not be used as the sole criterion for selection decision-making but it usually assists those entrusted with these critical decisions.
Management Effectiveness Development Programs
Our Management Development Program has two essential objectives: (1) to meet the needs of the individual by assisting in career planning and development and (2) to meet the needs of the organization for planning and increased productivity. The majority of management appointments are made on the basis of past technical expertise and achievements. However, our extensive corporate experience has shown that managers often fall short in terms of their management skills or style. Our Management Development Program begins by understanding the needs of the organization. It them moves to a comprehensive assessment of the manager, outlining major strengths and weaknesses in both style and skill level. In conjunction with the organization via the employee's superiors, an individually focused Management Development Program is established. The employee and the organization proceed to take action based upon this program and are provided with ongoing coaching, tracking and follow-up by the Advantage Tech team as required. The benefits of our programs apply equally to both the organization and the individual: Increased self and organizational knowledge on the part of the employee. Increased Job/Person fit, Increased skill building, personal and job satisfaction, Effective human resource planning by the organization, Increased communication between managers and employees, Improved corporate image as forward thinking, dynamic, a place where top talent managers would want to work, Increased productivity and morale, plus increased identification with the corporation.
Synoptic report
The Advantage Tech Synoptic provides a very cost-effective and compact but highly informative view of the candidate's actual abilities, other strengths, and potential, and importantly for interviewing generates questions about possible gaps in the candidate's suitability to the role. By identifying these issues early in the process, the recruiter gains additional insight into the candidate's actual capacity and potential, and can more confidently create the short list. The Synoptic is written by a Registered Psychologist and based on advanced psychological instruments not available to non-psychologists, unlike the inexact and sometimes misleading computer-generated reports used by some search and recruiting firms.
Executive Development Report
The Advantage Tech Executive Development report provides managers and executives, and their organizations, with in-depth analysis of their abilities, skills, interpersonal capacities, potential, and areas in which they can enhance their capacities for leadership and performance. Most importantly, the detailed analysis includes extensive description of activities and specific resources that will contribute significantly to the individuals' development. Candidates receive extensive feedback regarding the results, prior to completion of the report, to enable them to make optimal use of the information they receive. The Executive Development report is prepared by a Registered Psychologist and is based on advanced measures available only to Psychologists, as well as an extensive interview.

More...
| | | | |
| --- | --- | --- | --- |
| Visit/Share/Like/Follow our Social Media | | | |