Career Transition for Individuals
New job in different company or industry,
Getting promoted faster where you are,
Or choosing the entrepreneurial path
What Advantage Tech  Does For Individuals dealing with Career Transition
For over 40 years, we have considered it a privilege to help people learn to advance their careers by finding new employment within the same or a different industry. And helping advance more quickly in their current organization  by marketing / selling themselves more effectively. We also help guide those pursuing an entrepreneurial opportunity to be in business for themselves.
We've had several clients who had planned to work in a better (and better paying) job in another company, and when their employer realized the individuals were massively under-appreciated, under-utilized, and under-valued, they were given an unexpected significant raise or new opportunity in their current organization, rather than risk such a dynamic individual leaving them.
Our Career Transition Services handle THREE STREAMS

Find  new employment in same or
different industry

Advance quicker
in your current organization

Pursue entrepreneurial opportunities
for your own business
Which Stream Looks Like It Best Suits You?
Career Transition Overview
There are FOUR PHASES to  Career Transition:

1) Dealing with the Transition-Shock (financial, emotional, and family)
2) Outlook and Planning, and starting the re-write of your resume. Identifying opportunities and challenges.
3) An Efficient Job Search, using Linked In, Social Media & online Job Search tools
4) Handling Interviews and Salary Negotiation, to get the job you want and deserve
100 percent that fully utilize our Career Transition Programs are successful. WE GUARANTEE IT!
We Guide your Career Plan and Communications Strategy
It's important to understand that just like if you were a business,  YOU are a product in the marketplace. And, to set up a line of credit, a bank would want to see  your business plan and your marketing plan. We believe the equivalent of a  business plan is your Career Plan and the equivalent of a marketing plan is your Communication Strategy.
For your Communications Strategy, we help you plan what stories can you tell about yourself,  that would cause someone to want to hire you instead of someone else. These stories are contained in your resume, profile, cover letters. And further communicated in  how you shake hands, your eye contact, how you dress, conduct yourself at an interview, the letter your write AFTER your interview, and many other things.
You can't say (even WE can't say) one is more important than the other. But the combination of positive factors, and the absence of negative factors is what influences an employer to decide in your favour.
Get yourself in the Top Five Percent of Applicants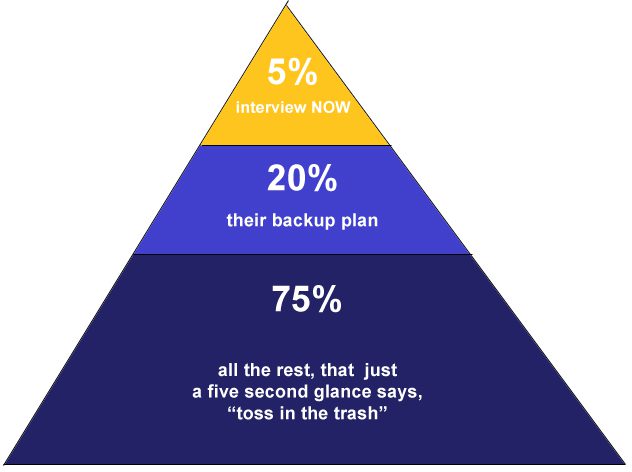 You need to be upper 5% in everything, and we know how to get you there.
All of Advantage Tech's Career Transition Programs are designed to show you how to market yourself more effectively as an Upper 5% member of your peer group. That means, if 100 people send in a resume for a position, if you are in the Upper 5%, you have eliminated 95% of your competition.
Let's not kid ourselves, this is hard work. There is no easy way about this. But our track record is working as hard as it takes for you. But we know that since we love our work, for us it's not really work. We want you to find a position or career that makes you happy at work or in business, so you also aren't working.
Do you already have a Career Plan and Communications Strategy? No one plans to fail; they just fail to plan.
Without a plan you will get somewhere; but you won't know where until you get there; and it may not be the path you really want.
How can Advantage Tech Inc put you in the Top 5 Percent of your Career Transition path?
Changing Your "Brand" is Changing Perceptions of You
Remember you don't have to be that good, you just need to create the "perception" that you are. REMEMBER, you can't change your past, but you can change how you communicate it. As a rule, superior job-hunting skills and communications skills will compensate for lesser qualifications. We can rather uniquely ensure you will develop and be able to use those skills.
We teach you how to market or sell yourself, from your marketing documents such as resume, profile, brochures, cover letter letters, interview skills, and online forums like LinkedIn, your personal presentation (style, behavior, skills) so that 95% of your competitors are not considered for the position to which you apply. As a result, typically attending three interviews usually results in a job offer to your liking.
With our programs you learn that YOU ARE a product (some might even say, "a brand") being sold in the marketplace. And that YOU ARE a million dollar+ product. You will learn to not undersell yourself; and neither over-sell yourself.
You will come to understand that an employer cannot make a favourable decision to hire you if you don't clearly articulate how you can save or make money for that employer.
If you are a receptionist, only perhaps 5 out of 100 can prove their value. Most people, no matter how junior or senior—even human resources executives—can't do this effectively… without proper guidance and feedback.
Learning the Rules of the Game
Again, we are uniquely qualified to do this as we are senior business leaders with human resources backgrounds. We have effectively done this in our careers and know how to teach you. Career Transition requires that you understand that moving to another position or starting a new career or moving up with your current employer is a competitive game. To win, you need to know all the rules, not just some. We can teach you these Career Transition Rules and make you a winner.
Getting hired is just like playing chess: you can't win if you don't know the rules. This includes everything from
how to properly shake hands
not having sweaty hands
learning how to be liked
how to sit at an interview
and what to wear (and what not to wear—and why)
…no matter your position.
Always remember that the person who gets hired is not necessarily the one who can do that job best; but the one who knows the most about how to get hired. We know, and if we support you on your career path, you will know as well!
Our Fees are Tax Deductible for Individuals
To our knowledge, we are the only Human Resources firm in Western Canada (and one of only a couple in all of Canada) approved by Employment and Social Development Canada as a private educational institution. We are certified by the Minister of Employment, Workforce Development and Disability Inclusion under the Income Tax Act. So, participants  of our Career Transition programs can claim their fees paid for the Tuition Tax Credit.
These Skills Stay With You For LIFE
This Career Transition process helps you not only prepare for and get your next job, but prepares you for  future promotion. It prepares your for being a manager (it's just the opposite side of the interview table!), and prepares  you for being your own boss and marketing yourself and your company.
Make Your LinkedIn Profile Even Better!