Advantage Tech Inc has been in the Career Transition business for over 40 years. We have helped hundreds of companies and thousands of individuals over that time.  To better help the companies and individuals we serve we have developed several tools that make us better and the transitioning individual more effective and efficient:
JOB SEARCH: A Specialized Career Continuance Counselling Program
Employment Sites on the Internet
Assistance for Budding Entrepreneurs
JOB SEARCH: A Specialized Career Continuance Counselling Program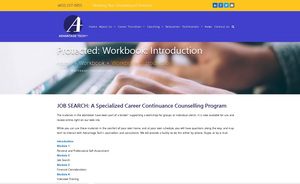 We have developed and updated a workbook that is available in group training or online for one-on-one counselling.
Introduction (5 pages)
Module 1: Personal and Professional Self-Assessment (38 Pages)
Module 2: Job Search (73 pages)
Module 3: Financial Considerations (20 pages)
Module 4: Interview Training (22 pages)
Module 5: Networking / Research / Resources / Job Search Documentation (60 pages)
While you can use these materials in the comfort of your own home, and at your own schedule, you will have questions along the way, and can interact with Advantage Tech's counsellors and consultants.
Employment Sites on the Internet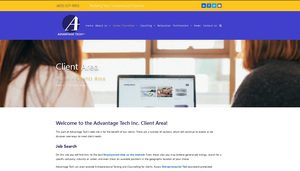 On our website  we have provide hundreds of links to the best employment sites on the Internet. This resource is intended to assist you in finding employment opportunities. We have evaluated all of the sites listed on these pages and determined that they may have valuable information to aid in your career search.
From these sites you may browse general job listings, search for a specific company, industry or career, and even check on available positions in the geographic location of your choice.
Employment Web sites
By Industry Categories
Oil & Gas Industry
Government Job Sites
Searchable Job Sites
Internet Search Sites
Miscellaneous Links
Workers With Disabilities
Frequently Asked Questions
Career Counselling
Assistance for Budding Entrepreneurs
Advantage Tech also can provide Entrepreneurial Testing and Counselling for clients.
We have a solid process to assist those looking to start their own business.