How does business coaching work?
Business coaching relationships are custom designed to match individual goals and objectives. A typical set of stages could look like this for an external coaching program: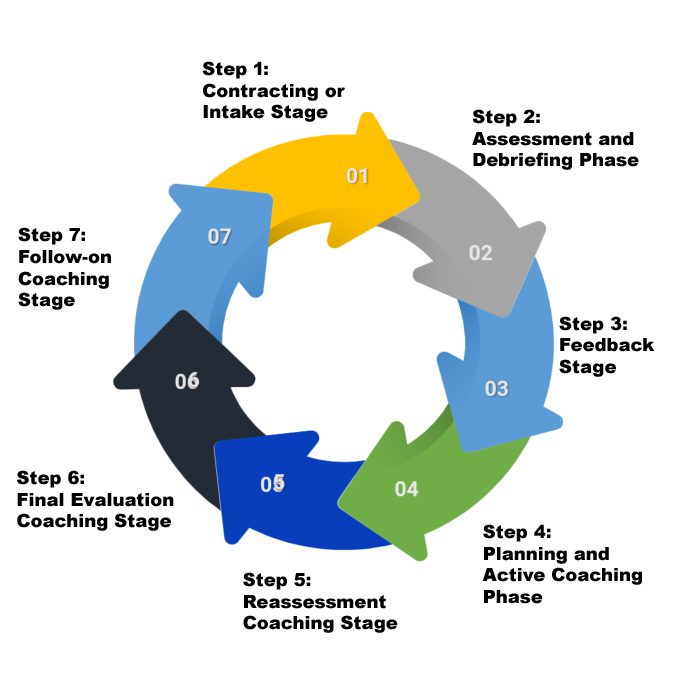 Step 1: Contracting or Intake Stage.Meetings typically occur between the client coachee and the coach to discuss coaching services and to define the strategic business context. These one or two contracting open dialogues set the stage for a solid coaching process. Successful coaching relationships require trust, safety, honesty, support, challenge and high-quality feedback. These contracting open dialogues set the stage for a solid coaching process and program.
Once all key parties (client, coachee, coach) are ready to move forward, these contracting objectives including clearly defined processes, roles, responsibilities and expectations are typically formalized into several documents including a Coaching Agreement and Confidentiality Agreement.
We've included information below, to help you evaluate and choose the best business coach for you and your organization.
Step 2: Assessment and Debriefing Phase.
Appropriate business and organizational information is first gathered and reviewed by the coach. Typical information includes personnel file, organizational values and principles, mission and vision, ethical statements, organizational charts (formal and informal), annual reports, policies and procedures, internal correspondence, operating plans, product literature, analyst's reports, and public files.
In-Depth Structured Interviews.
These are custom designed interviews with key stakeholders to specifically target the coachee's business issues.
Direct Observation (Observational Coaching).
This is one of our most powerful assessment tools. Coaches are trained competent observers. The coach may recommend observing the coachee in certain business contexts in order to assess how he or she interacts with others and manages his or her working environment. Remember, coaching is about facilitating behavioral shifts that result in enhanced performance. Seeing the coachee in action allows the coach to better understand the coachee and how he or she impacts others.
Other Standardized and Non-Standardized Assessment Tools.
The coach and coachee will discuss what type of additional assessments are appropriate given your particular goals and objectives. This phase can take anywhere from one to several days or even weeks depending upon the types of assessments used.
Your business and/or organization are a complex system. Thus, business coaches can use a variety of assessments to assist them:
In general terms, expect that assessments will almost certainly include the coachee's interpersonal, communication and leadership styles; emotional and attitude management; and physical comportment.
In-Depth Structured Interviews These are custom designed interviews with key stakeholders to specifically target the coachee's business issues.
Step 3: Feedback Stage.
Following each assessment, the coachee will receive verbal, written and/or audio feedback. A discussion will establish the purpose of each assessment, and when and how feedback is to be delivered before each assessment is conducted.
Step 4: Planning and Active Coaching Phase.
Equipped with powerful baseline data from these assessments, the coach and coachee can now diagnose intelligently what needs to be done next-at least in broadest terms-to work towards the establishment of significant goals and an action-results development plan
Step 5: Reassessment Coaching Stage.
A reassessment phase every agreed upon number of months consists of an abridged version of the initial assessment and allows the coach to evaluate, refine and enhance the coaching program. The results of this reassessment are shared with identified organizational change partners to help fortify the coachee's change initiatives and ensure business or organizational alignment.
Step 6: Final Evaluation Coaching Stage.
Towards the end of the coaching program, the coach and the coachee identify suitable evaluation processes (such as' shadowing, interviews with key stakeholders) to provide a final measure of the extent to which the goals have been met and what impact the accomplishment of these goals has had on the coachee and the business or organization. An evaluation of the coach and the program is also conducted.
Formalized feedback is provided to the executive leadership only if this is applicable and was agreed upon during the contracting phase of the coaching program.
Step 7: Follow-on Coaching Stage.
In the final session, the coach and coachee discuss next steps. Follow-on coaching is often suitable to further support and reinforce the learning and new behaviors that have been established.
Alternatively, the coach may work with the coachee to create a game plan that the coachee implements on his or her own with the assistance of other business or organizational partners to help ensure permanent positive behavioral change and sustained success.
Coaching: Frequently Asked Questions
Benefits of Working with a Coach
What kind of benefits can be expected from working with a business coach?
Your coach acts as a confidential strategic business partner who assists in leveraging personal and operational success. Your coach may assist you to:
Rejuvenate business growth
Build interpersonal competencies
Enhance organizational capabilities
Develop skills and knowledge base
Prioritize goals and develop strategies to achieve objectives within set timeframes
Deal with conflict
Establish business and marketing plans
Streamline business processes and systems
Improve morale
Direct and support organizational change
Collaborate to create and execute personal/business development plans
Deliver feedback
Conduct needs analyses
Develop and interpret performance assessments
Choosing a Business Coach
How do I select a business coach? Some Suggested Interview Questions:
What is your background in business?
What is your background in coaching?
Why did you decide to become a business coach?
What credentials do you have in coaching or other related fields?
What is your general philosophy of and approach to business coaching?
What is your personal coaching style?
How do you continue to develop yourself as a coach?
My personal/business issue or challenge involves __________; how have you assisted others with this kind of issue or challenge? (TIP: Listen to ensure that your prospective Business Coach isn't simply prescribing remedies. See Quick Reviews & Additional Tips below.)
How will I know if I'm ready for business coaching?
How do you give feedback? Could you provide me with some feedback about what you've heard and observed about me so far?
How do you conduct your coaching sessions? In-person, telephone, email, combination, etc.
How do we determine the appropriate frequency and duration of sessions; length of coaching program?
What are your rates? Do yo offer any special programmes?
What are the terms of your contract for coaching services?
What else do I need to know to make an informed decision?
Could you work with me? How did you determine this? Do you have references?
Quick Review & Additional Tips:
Interview several prospective business coaches.
Coaching relationships are built on trust, safety, honesty, support, challenge and high-quality feedback. After your interview, reflect upon how you feel and think about the prospective business coach: Do you think you can trust this prospective business coach? Why, why not? Could you let your guard down and become vulnerable enough to really learn and open yourself up to new ways of thinking and acting with this prospective business coach? Why, why not?
Look for the right "fit." It makes no difference if the business coach works with a large coaching firm, or is a solo practitioner. As long as the prospective business coach can meet your coaching needs and at a price you can afford, you're set
Understand the differences between a business coach and other types of interveners. (Review question #3 in the main "Why Use a Business Coach" section.) If your prospective business coach or your current business coach isn't focused on assisting you to build your own capacities and resources to respond more consciously, skillfully and appropriately to your leadership and management challenges, and instead is focused almost exclusively on advice giving, then chances are you aren't receiving business coaching. If this is the case, talk with your business coach about your observations
Ask for at least three – five recent client/coachee references that you can contact. It's important to know if your prospective business coach has satisfied clients/coaches.