Time for a "Resume Reset"?
by: Mark Ruthenberg, Vice President & Samuel L Travis, CEO, Advantage Tech Inc
Calgary's economy is picking up steam, with oil & gas services companies starting to hire again and oil priced above $50 US. Oil & gas companies have a lot of deferred maintenance and well workovers, that have been held off during a tough economy, that need to be started soon. As well, even though oil & gas has been tough, 90% of Calgary has not been directly affected, with strong retail and homebuilding activity, and Calgary's population continues to grow (surprisingly).
Let's look back at the past two years. Those who had jobs, particularly in the oil patch, were grateful to remain employed. Many people were just keeping their heads down, working hard, and being as demonstrably productive as possible, to keep the jobs they have. Some, who lost jobs, may have held two part-time jobs or some consulting gigs, just to help make ends meet, while others cut back on all expense to make the severance and the EI payments they received last as long as possible. Others may have taken on a new direction and/or academic growth by returning to their post-secondary education.
Review of recent oil prices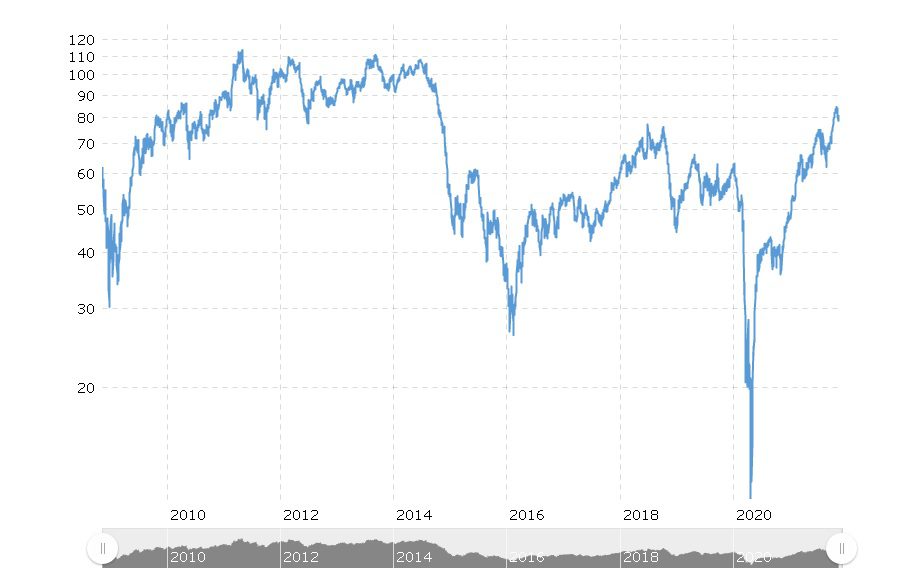 Oil prices (in C$) dropped to one-third their $120 highs of mid-2014, down to mid-2015 lows of $40 ($30 US), and during the COVID shutdown of 2020 droppped to around $20 (with no fuel demand for airline travel, ocean freighters, trucking, or commuter travel), and are now  into the mid $80s (mid-$70 US). that means operating cashflows for oil & gas companies are recovering strongly. Especially considering their overheads have been cut so sharply during the downturn.
Your resume may very well be out of date
The understaffing at your current employer may have vastly increased not just your workload but your responsibility and your authority. If you were unemployed, or underemployed, or managed several part-time positions, your activities need to be updated, and written to reflect them in the most positive light.
You may have learned new skills, got new education that may open doors to faster promotions or even new career paths in a stronger economy.
Job Postings have changed
As well, you may be shocked to learn that while companies still read your resume, it's no longer the only thing they read before considering you for an interview. And they no longer use the Calgary Herald Careers section to post their openings, preferring other more-dynamic places to post their openings (or at least some of them). Sending them your resume will no longer have the impact it had 10, 20, or 30 years ago. But, if this is the case, how will they find, qualify, and hire you, and how will you identify new positions or opportunities?
Employers are now in tune with the efficiencies of the online world. The corporate websites often post their openings, and they use a number of online job posting sites (at Advantage Tech, we've catalogued over 500!), they often promote or post only a portion of all their openings. They are often recruiting using online "social media sites" like LinkedIn (we've identified a half dozen that are worthwhile), and use them to identify likely recruits even before they (you?) are looking for new jobs.
Evaluating your resume has changed
Resume formats have also changed and most individuals these days have one version for online submissions and another for printing out (fitting a specified number of 8-1/2 x 11 inch sheets). As well, resume structure and layout have changed, to reflect what employers (and their HR professionals) are searching for, and find important for evaluating and comparing candidates. And your resume format may also change to hide too much experience (or your age, to prevent possible age discrimination, if you are over 50). There is much to consider in resume presentation.
Resumes are now often submitted online, though a website, or by email (or both)., and stored in a text-searchable digital format, so employers can quickly screen for required education, skills, or experience. This can be done is SECONDS, even if there are thousands of applicants. On the plus side for applicants, you may be found to meet requirements for other open positions, even if you have not applied for them.
Even if your resume is a very polished & professional document, employers are looking up online sources to verify your resume before. They are not saving the reference checking until after the interview, but rather, they are doing much of it online, before they even consider you for an interview. Missing, incomplete, or inconsistent information may deny you even getting a call or email back. NO MATTER HOW QUALIFIED YOU MAY BE.
Protecting yourself
Keep in mind that not only future employers are watching your resume and your social media! Your current one is (or someone playing "politics" for personal advantage in your company). When rewriting your resume and posting updates to LinkedIn, you have be VERY CAREFUL not to show your hand to your current employer.
We have developed techniques that can help you evaluate and apply for new positions, while looking good and proactive in your current position . Heck, you may even find your current employer may consider you for a raise or advancement, if done right!
Best Practices going forward
We invite you to meet with us, in person or over the phone, to get an initial evaluation of your current resume. We'll identify some of the problem areas, and things to work on.
If you need some professional guidance or help, we'll give you a quote (not an estimate, but a written in stone quote… we know everyone's resources are tight these days) for some options to consider.
More information: